Keynote Speaker
Keynote Speakers– ICII 2023
Keynote Speaker_ICII 2024

Prof. Andrew Kusiak, The University of Iowa, USA
Fellow of the Institute of Industrial and Systems Engineers and the Editor-in-Chief of the Journal of Intelligent Manufacturing
Dr. Andrew Kusiak is a Professor in the Department of Industrial and Systems Engineering at The University of Iowa, Iowa City. He has chaired two departments, Industrial Engineering, and Mechanical and Industrial Engineering. His current research interests include applications of computational intelligence and big data in manufacturing, automation, renewable energy, sustainability, and healthcare. He has authored or coauthored numerous books and hundreds of technical papers published in journals sponsored by professional societies, such as the Association for the Advancement of Artificial Intelligence, American Society of Mechanical Engineers, Institute of Industrial and Systems Engineers, Institute of Electrical and Electronics Engineers, and other societies. He speaks frequently at international meetings, conducts professional seminars, and consults for industrial corporations. Dr. Kusiak has served in elected professional society positions as well as editorial boards of over fifty journals, including editor positions of five different IEEE Transactions.
Professor Kusiak is a Fellow of the Institute of Industrial and Systems Engineers and the Editor-in-Chief of the Journal of Intelligent Manufacturing.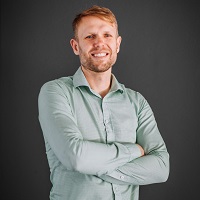 Assoc. Prof. Thorsten Becker, University of Cape Town, South Africa
Thorsten Becker is appointed as Associate Professor in the Department of Mechanical Engineering while holding the role of the director for the Centre of Materials Engineering at the University of Cape Town, while holding an extraordinary position in the Mechanical and Mechatronic Engineering department at Stellenbosch University. His research interest is in structural integrity: fatigue, fracture, and creep. His work aims to use advanced techniques such as digital image and volume correlation, high-resolution microscopy, and finite element modelling to measure and extract engineering parameters for structural integrity assessments. One of his keen interests lies in the additive manufacturing of metals and high-temperature applications. His work closely collaborates with local and international institutions to develop a better understanding of the inherent attributes of the process and its link with the structural performance of the material. He also acts on various professional bodies and consultants to industry, particularly in the field of Fracture Mechanics.
Listener's Registration Form Download